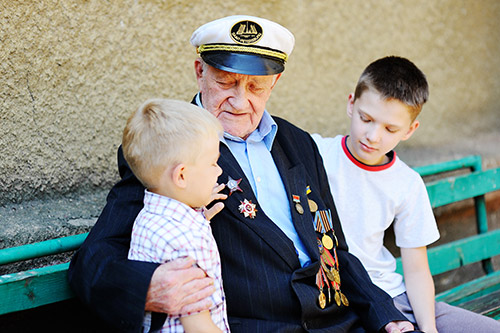 Today's blog post is targeted for our entire blog reading community. Whether you are a beloved senior assisted living resident here at Manor Lake caring for a military veteran, a loving family member of a memory care veteran resident, or one of the many providing loving care of a veteran within your own home, we know that you remind them of your appreciation for serving their country. For those of you who do not have a senior relative to reach out to, we hope that you find someone who served, offer to shake their hand, and thank them for their sacrifice, their service, and for their love of country. And while doing that, if you find yourself within arms-length of their spouse who stood by them during service, thank him or her for their service as well.
Many of us make it a habit to look for opportunities, when we come across people wearing military war campaign hats, to stop and offer brief words of appreciation to these complete strangers. Much like seeing the rare Bald Eagle fly past, it's becoming even more rare to see the "WWII Veteran" hat fly past as well. Even that "Vietnam Vet" hat is becoming increasingly rare. If you happen to see a Veteran of the "Forgotten War", take a picture of that Korean Vet because he (of course, or she) seems to be the rarest of the three.
Regardless of the campaign, these hats, and the head they cover, do not deserve to be silently walked past. And that dear senior lady by his side, it is not offensive to inquire if she was there, standing by his side (figuratively by his side) during war. Remember, SHE served also. She delivered for her country the weight of worry, a heavy heart, endless nights in an empty bed, and flying solo as a mom. "Ma'am, thank you for your service to our country as well".
So, don't wait until Memorial Day on May 30th to make some Veteran's day. Look for opportunities to that every day going forward. You can rest assured that every Veteran (and Veteran's spouse) here at Manor Lake Assisted Living and Memory Care are served with the love and respect that they've earned.